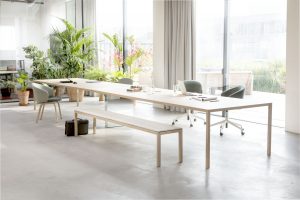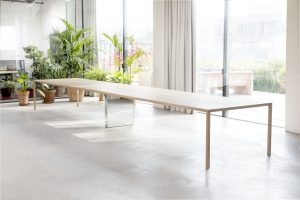 The seemingly impossible Slim and Slim+ collection of tables are constructed using an innovative steel sandwich construction with a lightweight honeycomb-structure core. This unique composite material enables the table to be constructed at great lengths while retaining its slim line profile and remaining lightweight. The inherent properties of the different materials have been used as honestly as possible: metal for its strength and timber for its tactile and aesthetic qualities.
Arco have developed a technique to connect Slim+ tables allowing this super slim table to be produced in enormous lengths. In addition, all the necessary connection points, such as sockets, data connections and USB portals can be integrated into the tabletop by means of cable management. This makes the Slim Connected an ideal conference table or landing spot to work independently or in a group.
The connection point rests on a column of reflective stainless steel, so that the column disappears, as it were, into the environment. All cables are routed down the column.
MATERIALS
Table Top: Constructed from MDF finished to Oak or Timber veneer, lacquered Ash or solid surface, Fenix HPL
Frame: Constructed from steel, wrapped in Oak or Walnut veneer
Glides: Plastic glides